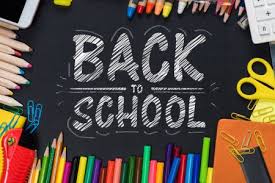 Back to School Giveaway
We wish all students, teachers, faculty and parents the best of luck with this upcoming school year!  We know that this is a particualry difficult school year with many adjustments needed.  Therefore, we wanted to kick off this Back to School season with a Tenant giveaway!  To celebrate the 2020 school year, we want to see your Back to School photos or child's artwork. Two lucky winners will each receive a $100 Visa gift card for their child's classroom.  Even if you do not wish to submit a photo, you can still participate by reviewing the comments and liking the photos of other Tenants.
Contest rules:
1.    You must be listed on a current lease as a tenant of Tyson Property Management of Albuquerque, NM, at the time of this contest.
2.    The entry must be an original photo taken by you or original artwork by your child(ren).
3.    You'll need to have your own Facebook account to participate.
4.    Share a photo to our Facebook page. To do this, attach your photo as a comment on the Back to School Contest post pinned to the top of our page.
5.    You must enter by 12:PM (noon) MST on August 24th, 2020.
6.    One entry per household, please.
8.    No purchase necessary.
9.    Void where prohibited.
The Prize: Two Winners will receive a $100 VISA Gift Card!!
By entering this contest and providing your Back to School photo you acknowledge that:
•    This promotion is in no way sponsored, endorsed or administered by, or associated with, Facebook.
•    You release Facebook of any responsibility for this contest and its administration.
•    You are giving Tyson Property Management in Albuquerque and Rio Rancho, NM, also referred to as Tyson Properties, permission to use your photo, comments and first name on our website and on any future promotional materials.
For your protection:
DO NOT provide your address or identify your neighborhood in your comments or on your photos.
How we'll decide a winner: 
1.    The five entries/photos with the most likes will be identified and verified against our contest rules.
2.    Our staff will vote for their favorite entry from the top five on August 25th.
3.    The entry with the most votes will be the winner.
4.    We'll contact the winner.
5.    We'll announce the winner on August 25th by 5:00 PM on our company Facebook page.
While you're on our Facebook page, don't forget to follow us and 'Like' our page.  We often post interesting articles and fun things to do around Albuquerque and Rio Rancho.  We would also appreciate if you would take a moment to write a review about your experience with Tyson Property Management.  We are a people business and thrive on feedback. Neither of these is a requirement for the contest submission.
If you have any questions, please feel free to reach out to us at help@tysonprop.com or by calling us at 505-323-2104.